ProFeeder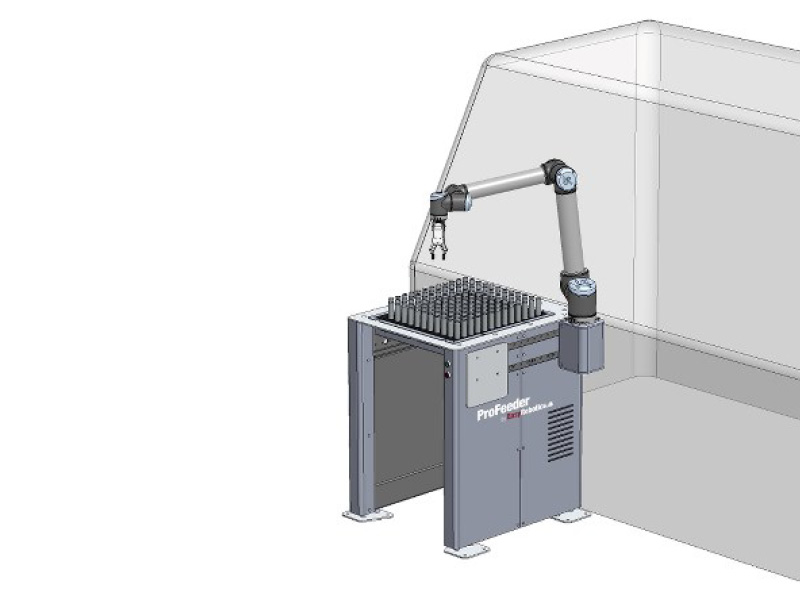 An easy introduction to robotic automation
ProFeeder is a compact, mobile and modular robot cell that can easily be moved around with a pallet truck between CNC and processing machines in your production.
The ProFeeder solution is suitable for small and medium-sized series production and can save up to 7 manual hours in a work shift, as the operator only has to fill up the parts tray and replace the mover when the parts have been processed.
ProFeeder comes with 2 movers and 2 parts trays
The parts tray holds up to 780 parts, it has interchangeable tear plates and can be replaced with thin-plate feeding. Furthermore, if the standard tear plates are not a suitable solution for your needs, then we can design a custom solution for your specific requirements.
The mover ensures a quick and efficient change
Once the parts have been processed, the mover with the parts tray is removed from the robot cell and replaced by a new mover with unprocessed parts.
When the mover is placed in the ProFeeder's robot cell, the parts trays are automatically centred.
Patent pending
Your benefits
Uniform and high-quality products.
Increased machine productivity.
Easy transition from small to larger series.
Efficiency and automation of workflows.
Large reduction of man-hours per unit produced.
Possibility of establishing evening and night shifts.
The payback period is about 1 year, but often shorter, depending on the operating time.
Benefits of ProFeeder
Can store parts for an entire shift.
Mobile and can be moved quickly with a pallet truck.
Easy to set up and requires only connection to electricity and air.
The compact design allows easy access to the CNC machine.
Can be used with most types of processing machines.
The robot arm can be placed on the three sides of the cell, ensuring production flexibility.
---
ProFeeder installed at Egernsund Maskinfabrik